Beijing | China
Wiseasy to Attend WSAA 2022 with Up-to-date Products and Services
Beijing, China – July 28th, 2022. Wiseasy, a global digital banking and payment builder, will participate in the Western States Acquirers Association (WSAA) 2022 as an exhibitor. The event is scheduled Wednesday September 7th through Thursday September 8th at Hyatt Regency Huntington Beach Resort & Spa, California, USA. Wiseasy welcomes all who want to explore the state-of-the-art payment terminals and services at Booth 49.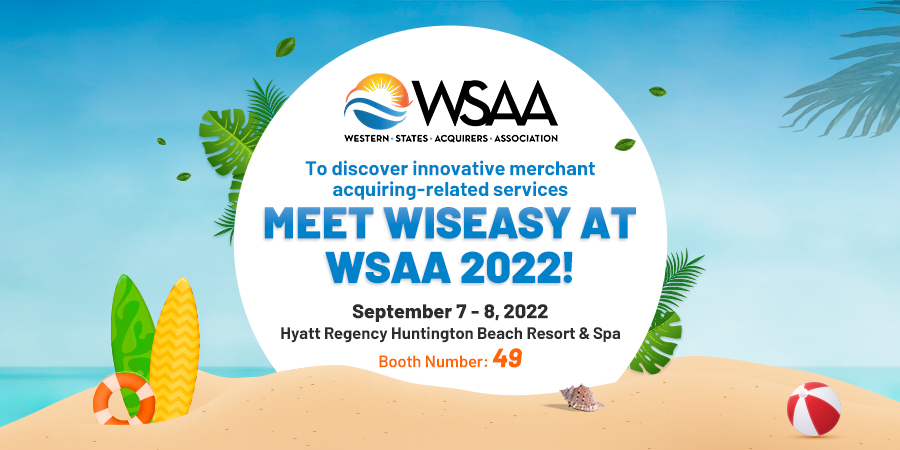 With the mission to serve the acquiring business community, WSAA is dedicated to offering the latest industry related trends conforming to the ever-changing needs of financial services industry. It's a well-attended event which creates valuable opportunities for practitioners to collect firsthand information and network with professionals from financial institutions, ISOs, MLSs, etc. This year, over 1,000 attendees are expected to attend this event.
With years of experience in serving acquirers and other financial institutions around the world, Wiseasy is committed to enabling its partners to offer faster, easily scalable and more affordable services to their customers by providing seamless and complete "Cloud + Software + Terminals" solution. During WSAA 2022, Wiseasy will showcase its full range of Android payment terminals which caters to the varied needs of global merchants. All the most up-to-date models will be displayed to catch attendees' eyes.
If you are attending WSAA 2022, welcome to stop by Booth 49 and talk with Wiseasy's experts.
See you in Huntington Beach, rain or shine!