Singapore | Singapore
Wiseasy Will Attend Seamless Africa 2023 Jointly with Its Solid Partner Addpay
Singapore – 9 August 2023. We are thrilled to announce Wiseasy's participation in Seamless Africa 2023, which will be held from September 19th to 20th at the Sandton Convention Centre in Johannesburg.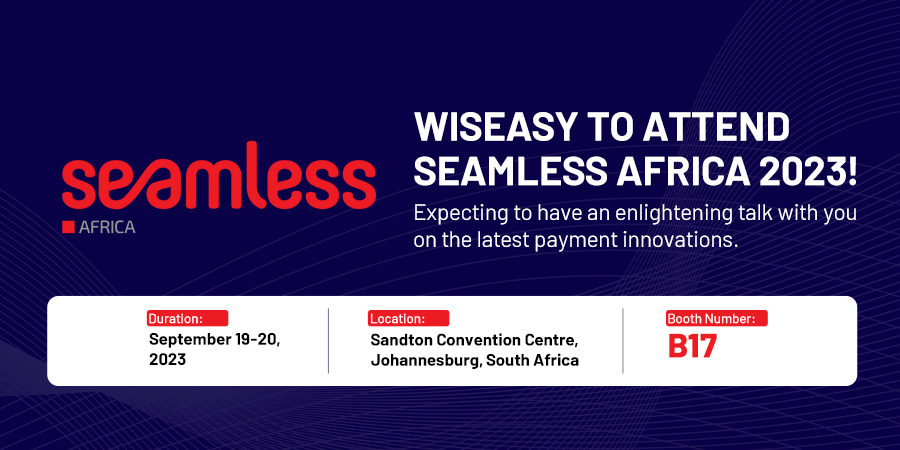 Seamless Africa stands as the region's most important payment, fintech, retail & e-commerce event, bringing together the entire financial ecosystem to discuss, debate, and evaluate the future of the payment, fintech, retail, and e-commerce industries. Wiseasy is honored to be a part of this 9th edition and showcase our latest innovations and total payment solutions.
Joining us at Booth B17 will be a team of payment experts, comprised of both Wiseasy and AddPay representatives. AddPay, a licensed system operator & third-party payment provider based in South Africa, specializes in offering payment solutions, hardware, and payment platforms that facilitate omnichannel digital payment services with cutting-edge technologies across South Africa and its neighbouring countries. As a solid partner of Wiseasy, Addpay leverages the strengths of both companies to empower its local customers' rapid growth.
The powerful collaboration between Wiseasy and AddPay at Seamless Africa 2023 promises to deliver an unforgettable experience for all visitors during the two-day event. We are excited to introduce our industry-leading new product, the EMV Android Tablet T2, to the African market and to all attendees from far and wide. We will also be featuring Wiseasy's full series of payment terminals and end-to-end complete payment solutions.
To explore how our offerings can fit your business needs, please visit Wiseasy and AddPay at Booth B17. For those who wish to book a meeting in advance with Wiseasy's experts, feel free to contact mk@wiseasy.com.
We are eager to meet you in person and discuss how Wiseasy can contribute to your success. Expect nothing short of an enriching experience at Seamless Africa 2023!