Beijing | China
Wiseasy Unveils Newly Designed Website!
Beijing, China – February 17th, 2022. Wiseasy is thrilled to announce the launch of its new and comprehensive website to intensify its shift to one-stop "cloud + software + terminals" solution provider and its continuous evolution in product lines. As an extension of Wiseasy's rebranding in recent years, the new website marks its ongoing move on the journey of digital banking and payment service strategy.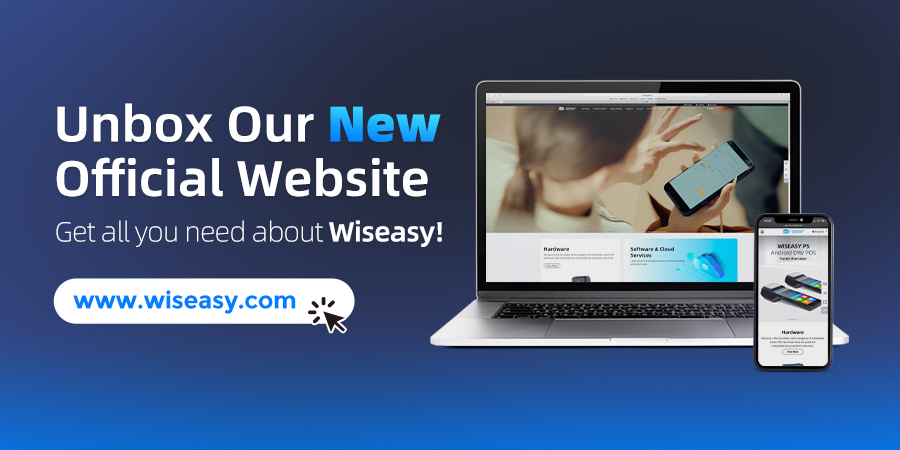 Established in 2012, Wiseasy is a trusted brand in providing reliable POS terminals for merchants worldwide. By the end of 2021, more than 3.5 million terminals have been delivered to 114 countries.
The lingering pandemic ushered unprecedented acceleration of changes in the payments industry. The shift toward e-commerce and consistent growth in contactless payments created new opportunities for market players to serve their global clients with innovative products.
To meet the ever-changing demands of global clients under the new situation, Wiseasy rolled out P5 and P5L lately, the innovative POS hardware which are born to bring faster experience to merchants. In terms of software, Wiseasy introduced WiseCloud and PayCloud, the cloud TMS for terminal management and the cloud-based payment platform with unified payment gateway which provides omni-channel payment services. In addition to this, Wiseasy Cashier APP, Wiseasy Wallet and Wiseasy Agency Banking came out one after another to meet different needs.
Wiseasy's brand new website is designed to demonstrate the company's full series of products covering terminals, software and cloud service, intensifying its brand image as a digital banking and payments builder which provides true one-stop payment solution for global clients. Therefore, the architecture of new website is updated to be clearer in order to make information accessible for users.
The introduction of all products are updated thoroughly for better readability. The features of products are demonstrated in a more concise and vivid way to help global clients understand the different strengths and applicable scenarios of each Wiseasy product. It's much easier for the prospective clients to figure out which products match their needs quickly.
From the perspective of virtual effect, the new website is more comfortable to watch with the well-arranged color combination. The adaptive function makes it friendly to smartphone users in the mobile internet era.
By providing one-stop "cloud + software + terminals" solutions based on advanced technical system and network facilities, Wiseasy will keep facilitating all clients to offer diverse financial services in more cost-efficient and convenient ways to the wider public in the whole world. And a good website will keep you stayed up to date with new and updated content! Wiseasy were expecting to serve you not just better, but more!