New York | USA
Wiseasy | Unleash The Power Of Pay With Wiseasy's Holistic Payment Solutions | Yiannos Papadopoulos
In the post-pandemic era, shoppers return to in-store shopping expecting a seamless omnichannel shopping experience. They expect to purchase securely from anywhere, and feel free to choose any method of payment which is more instantaneous, fast and simple. This is driving the demand for retailers to upgrade their in-store checkouts to a solution that is frictionless, simple to use and easily scalable. However, how can payment enablers cater to the ever-changing needs of global merchants?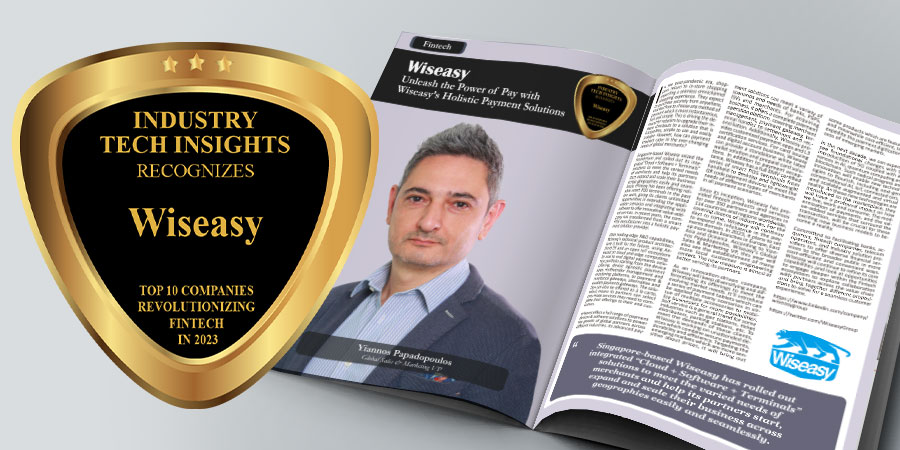 Singapore-based Wiseasy seized the momentum and rolled out its integrated "Cloud + Software + Terminals" solutions to meet the varied needs of merchants and help its partners start, expand and scale their business across geographies easily and seamlessly. Wiseasy has been offering reliable smart POS terminals in the past ten years, giving its clients unlimited opportunities in extending the application scenarios and integrating with software to offer innovative value-added services. In recent years, the company has transformed from a smart POS manufacturer into a holistic payment solution provider.
With leading-edge R&D capabilities, Wiseasy's technical product architecture is built for the future, using Android OS and an open IoT ecosystem based on cloud and edge computing.
Its end to end digital payments solution portfolio starting from the device offering, device agnostic payment apps, multivendor management and monitoring platforms, to payment & remittance gateways, alternative and ewallets payments gateways.
The solution can also be offered as à la carte, which means its partners can select only those services they need to complete their offerings to their end customers.
Wiseasy offers a full range of payment devices & software solutions to power the growth of global partners across different industries. Its advanced payment solutions can meet a variety of scenarios and needs of banks, PSPS, ISVs and merchants. For acquiring business, it offers a complete payment operation platform, covering merchant management, payment gateway, terminal handler to settlement and reconciliation. Additionally, Wiseasy provides customized payment apps and L3 certification services. For card issuing and digital account business, Wiseasy can provide a standalone white label wallet solution and prepaid card solutions. In addition to payment acceptance, Wiseasy has a full EMV certified series of smart POS terminals from handheld to desktop and lightweight QR code payment devices to meet the needs of different types of merchants in all payment scenarios.
Since its inception, Wiseasy has provided fintech products and services for over 350 partners and agencies in 114 countries and regions worldwide, covering dozens of industries. For the days to come, Wiseasy will continue to expand its infuluence in the payments domain. In 2023, it plans to set up more sales branches in Europe, East Asia and Oceania. According to Yiannos Papadopoulos, Wiseasy's Global Sales & Marketing VP, this year will also see the establishment of many more local customer engineering centers. The new measure is aimed at better serving its partners.
As an innovation-driven company, Wiseasy will keep diversifying and differentiating its offerings to meet the evolving market needs. It'll introduce a series of payment tablets which can be applied to many scenarios in virtue of multiple accessories to mobilize businesses for more possibilities. Self service is a general trend for some industries such as gas stations, ticket distributors, parking stations, etc. To meet the demands of these clients, Wiseasy is working on unattended devices which combine secure payments, durability and efficiency. Targeting the emerging markets which are more sensitive about prices, it will bring out some products which are feature-rich and meanwhile cost-efficient, to help expedite the payment digitization process of emerging markets.
In the next decade, we can expect to see foundational changes with the introduction of 5G coupled with advances in AI, quantum computing and blockchain. Such radical progress and innovation will enable new technologies to flourish, including next-gen conversational AI, IoT, connected cars, and scalable augmented and virtual reality. As these new technologies are introduced to the marketplace, they will have a profound impact on how we live, work and consume. The modernization of payments, and the value-added services that surround the transaction, will be crucial for these exciting new business models to become a reality.
Committed to facilitating banks, acquirers, fintech companies, telecom operators, and industry solution providers to offer diverse financial services to the broader public in more cost-efficient and convenient ways. Wiseasy will continue to refine its core capabilities and look at opportunities to engage deeper within the Fintech ecosystem to explore collaboration with partners across the value chain and bring together different propositions to solve for a seamless customer experience.
Source: Industry Tech Insights