Beijing | China
Wiseasy to Present at Paris Retail Week 2022
Beijing, China – August 10th, 2022. Wiseasy, a global digital banking and payment builder, announced its gold sponsorship of Paris Retail Week 2022, which is to be held from Tuesday 20 to Thursday 22 September 2022 in the Pavilion 4 of the Paris Porte de Versailles exhibition center. It will shed light on the latest technologies and trends in the retail sector at Booth G101.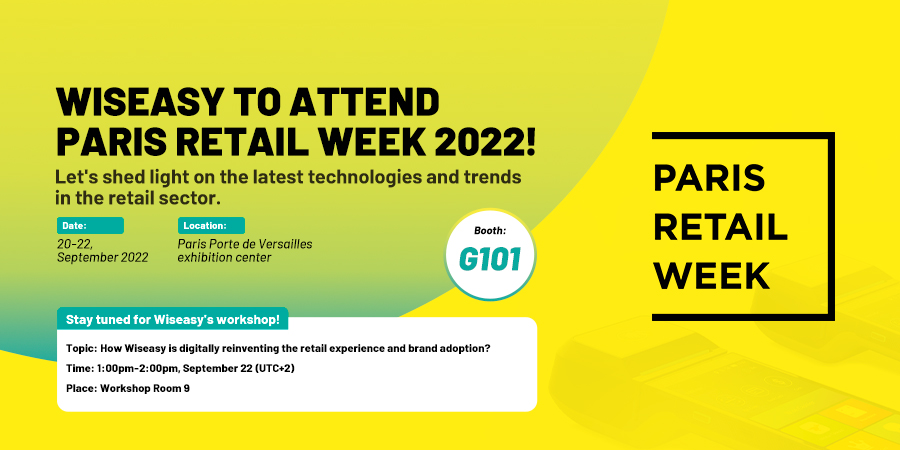 The 8th edition of Paris Retail Week this year, a grand meeting for all the retailing ecosystem, will bring together 4,000 top retailers, e-retailers and brands and up to 15,000 professionals from all around the world. During the three-day event, conferences, workshops and keynotes are organized to cover disruptive topics including data, agile customer experience, new payments experience, marketing, CSR, marketplaces, logistics and omnichannel commerce.
Rachid, Wiseasy's VP and General Manager of EMEA, will run a workshop to present the latest technologies and practical solutions transforming retail businesses. Please stay tuned for it!
Topic: How Wiseasy is digitally reinventing the retail experience and brand adoption?
Time: 1:00pm-2:00pm, September 22 (UTC+2)
Place: Workshop Room 8
Wiseasy offers all-in-one new retail operations and payments solution that supports various functions such as slicker payments, ordering, selling, inventory, stocking, customer services, etc. Its customer-focused retail payment solutions cater to the needs of retail stores of all sizes and are designed to drive growth and customer loyalty.
With a product portfolio composed of "Cloud + Software + Terminals", Wiseasy enables a great many leading retail brands to work smarter by operating smarter. At Paris Retail Week 2022, Wiseasy will exhibit its eye-catching Android payment terminals which are designed to modernize retail businesses.
To hear directly from thought leaders of payment domain, find us at Booth G101!