Singapore | Singapore
Wiseasy Named "Top 10 Companies Revolutionizing FinTech in 2023" by Industry Tech Insights
Exciting news! Wiseasy has been named "Top 10 Companies Revolutionizing FinTech in 2023" by Industry Tech Insights, an industry magazine based in New York which features the top companies within the vertical. The other companies which have received this award include ACI Worldwide, iCapital and Form3, to name just a few.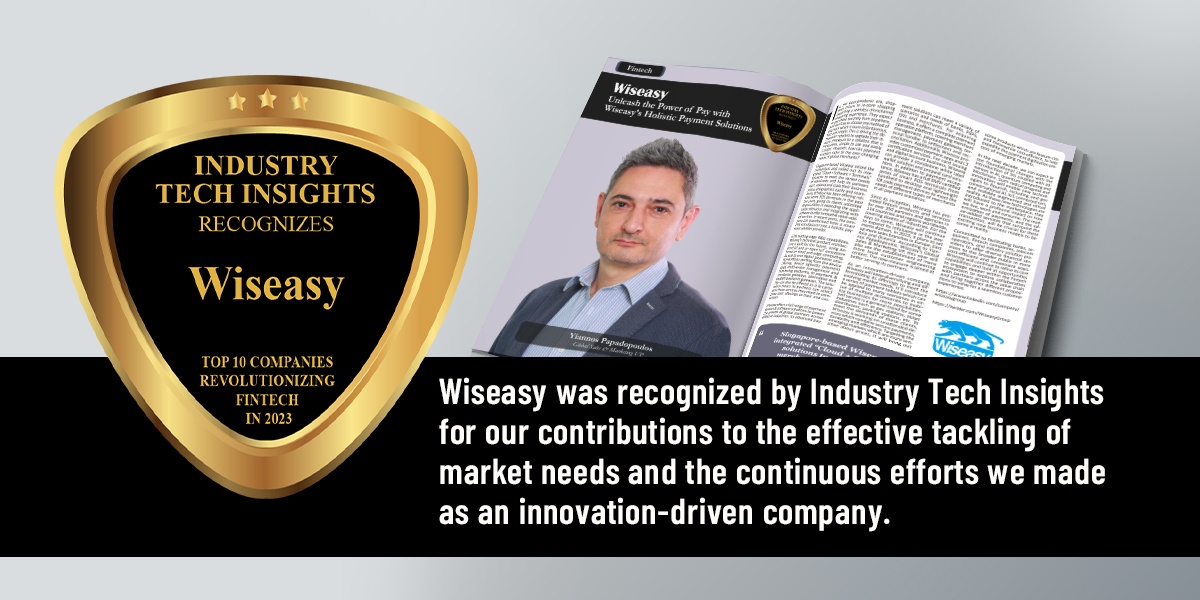 In recent years, changes caused by post-pandemic events, supply chain fractures, and political conflicts reshaped consumers' behavior and the payment market in general. All the events and changes are reflected in the bespoke solutions of fintech. Fintech companies are striving to satisfy global regulatory requirements and meet changing customer demands with future-ready solutions.
Industry Tech Insights evaluated a great number of fintech companies against a backdrop of the increasing challenges in payments domain and selected the top 10 companies which have been making revolutionary contributions to the fintech domain. They represent the trend into the future of payments and the industry-leading digital payment services which deliver exceptional values to businesses and customers worldwide.
For years, Wiseasy has been committed to tackling the ever-changing market needs by driving continuous innovations. This award is a recognition of the creative endeavour that we've made to facilitate the development of fintech technologies and services.
Just as Wiseasy's Global Sales, Marketing & Customer Engineering VP Yiannos mentioned in the interview, Wiseasy keeps diversifying and differentiating its offerings as an innovation-driven company to power the growth of its global partners across different industries.
Wiseasy has been offering reliable smart POS terminals in the past ten years, giving its clients unlimited opportunities in extending the application scenarios and integrating with software to offer innovative value-added services. Now we have transformed from a smart POS manufacturer into a holistic "Cloud + Software + Terminals" payment solution provider successfully. Looking ahead, let's join hands to continue to refine its core capabilities and engage deeper within the fintech ecosystem to create more value for global businesses and customers.
To find out more, please visit Unleash The Power Of Pay With Wiseasy's Holistic Payment Solutions.