Beijing | China
Wiseasy Invites You to Explore Its Trendy Innovations at APIDE 2022
Beijing, China – April 21th, 2022. Wiseasy, a global digital banking and payment builder, is pleased to attend the forthcoming Africa Pay & ID Expo (APIDE) physically at Rotana Resort Palm Garden, Marrakech, Morocco. This event will take place from Thursday 26 to Saturday 28 May 2022. A powerful team of professionals from Wiseasy will be waiting for you at Booth B1.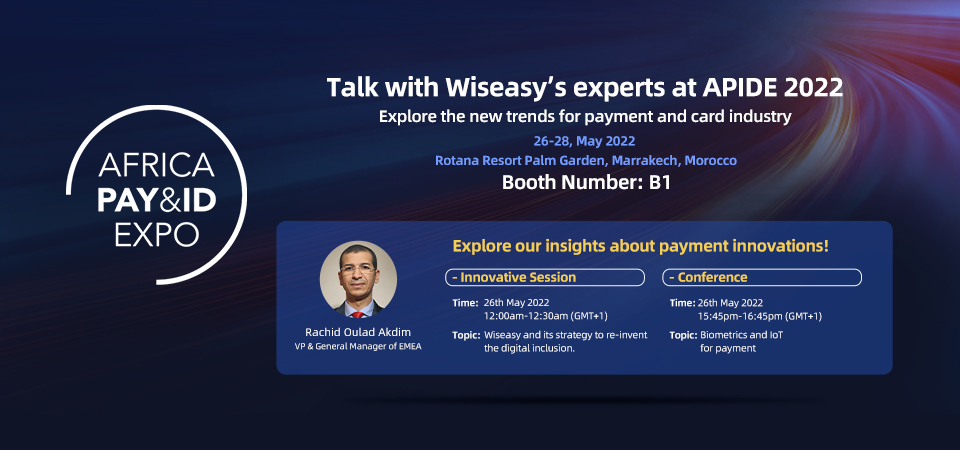 Africa Pay & ID Expo is an international exposition for card solutions and payment technologies to the current market. It helps practitioners to meet and network with the banks, financial institutions, mobile operators and service providers all over the world, especially the French speaking market in North, West and Central Africa. Around 1,500 participants and 75 forward-thinking speakers from 60 countries will attend this event.
For about a decade, Wiseasy has been devoted to offering reliable and up-to-date Android POS terminals to facilitate banks, acquirers, fintech companies, telecom operators and industry solution providers to provide diverse financial services to the wider public in more cost-efficient and convenient ways. At APIDE 2022, Wiseasy will be demonstrating its new flagship products P5 and P5L, the next-gen POS faster than ever, and unveil its newly developed portable/handheld POS terminal which supports Gift Card, QR payment and EFT options, solidifying its commitment to expand digital payment inclusion.
To enable its partners to provide enhanced frictionless payments capabilities for global merchants, Wiseasy brings the live demonstration of its one-stop "Cloud + Software + Terminals" solution to attendees of APIDE 2022. The complete suite of solution caters to the varied needs of merchants and help them start, expand and scale their business across geographies easily and seamlessly.
Additionally, please stay tuned to our innovative session and conference to explore our insights about payment innovations!
– Innovative Session
Time: 26th May 2022 12:00am-12:30am (GMT+1)
Topic: Wiseasy and its strategy to re-invent the digital inclusion.
– Conference
Time: 26th May 2022 15:45pm-16:45pm (GMT+1)
Topic: BIOMETRICS AND IOT FOR PAYMENT
If you are interested in joining APIDE 2022, it'll be a great opportunity for us to meet and talk.
Can't wait to see you at Marrakech in May!