Düsseldorf | Germany
Wiseasy Exhibited at Euroshop 2023 to Help Retail Businesses Thrive on Challenges
Düsseldorf, Germany – March 3, 2023. Wiseasy, a global digital banking and payment builder with Singapore as its international headquarter, has showcased its holistic payment solutions composed of "Cloud + Software + Terminals" at Euroshop 2023 which was held from February 26 to March 2 in Düsseldorf, Germany.
EuroShop 2023, one of the world's largest and most important trade fairs for the retail industry, provided golden opportunities for the relevant practitioners to exchange great ideas and demonstrate the latest innovations of their companies at the Düsseldorf exhibition halls. This event focused on some hot topics such as Connected Retail, Sustainability, Smart Store, Energy Management, Third Places, Customer Centricity, Experience, and Lively City Centres, which covered the latest trends across every single corner of retail. More than 81,000 visitors have been attracted to the Rhine from 141 countries of five continents.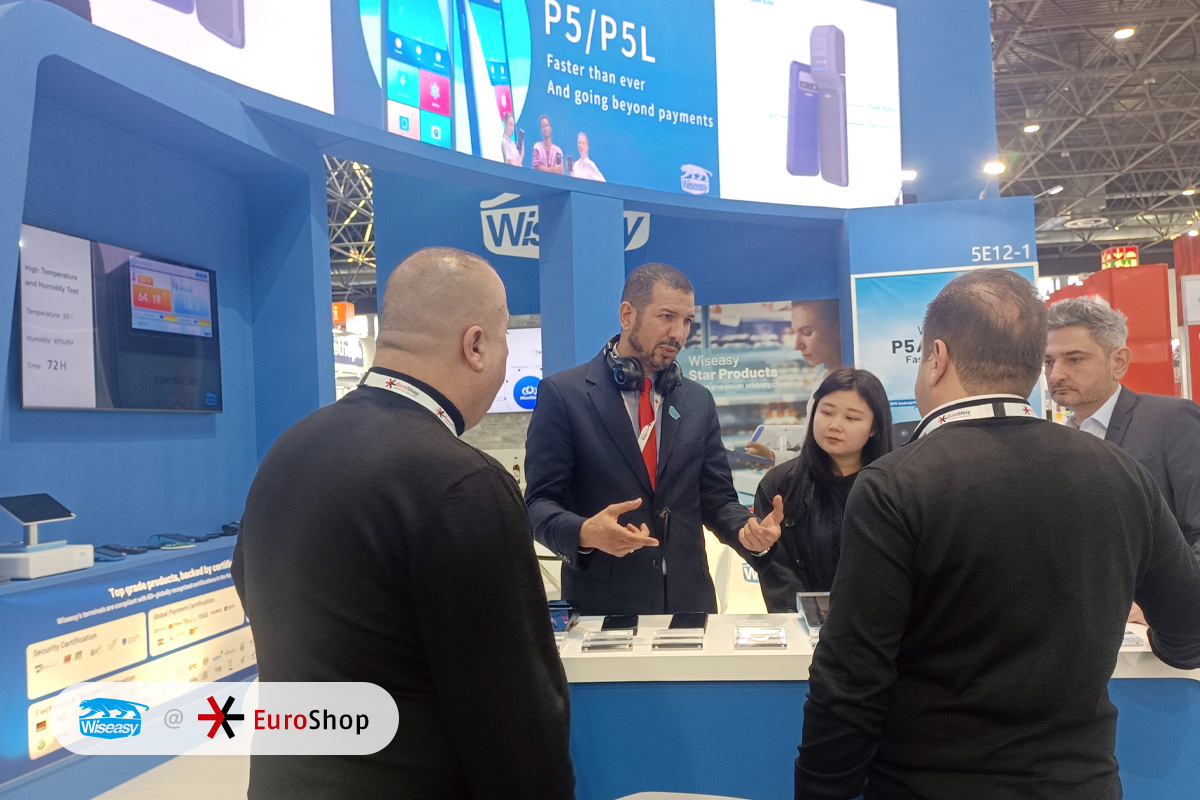 During the 5-day event, Wiseasy provided its visitors with an opportunity to experience the fast and seamless checkout services in "Wiseasy Shop" brought by its products Wiseasy BOT3 and N5M Pro. Wiseasy BOT3 can work as unattended POS for customers to place orders and make payments on their own, which is a good helper for the retail business to transition from traditional selling to a more labor-saving digital method. As an AI Android Terminal, Wiseasy BOT3 supports facial recognition technology and has been widely used for smart attendance management and face scanning payments in over 20 primary and middle schools in Southeast Asia. Wiseasy N5M Pro is an extraordinary PDA device featuring rapid scanning. With the industry-leading Honeywell N6603 scan engine, it responds in milliseconds and reads barcodes and QR codes.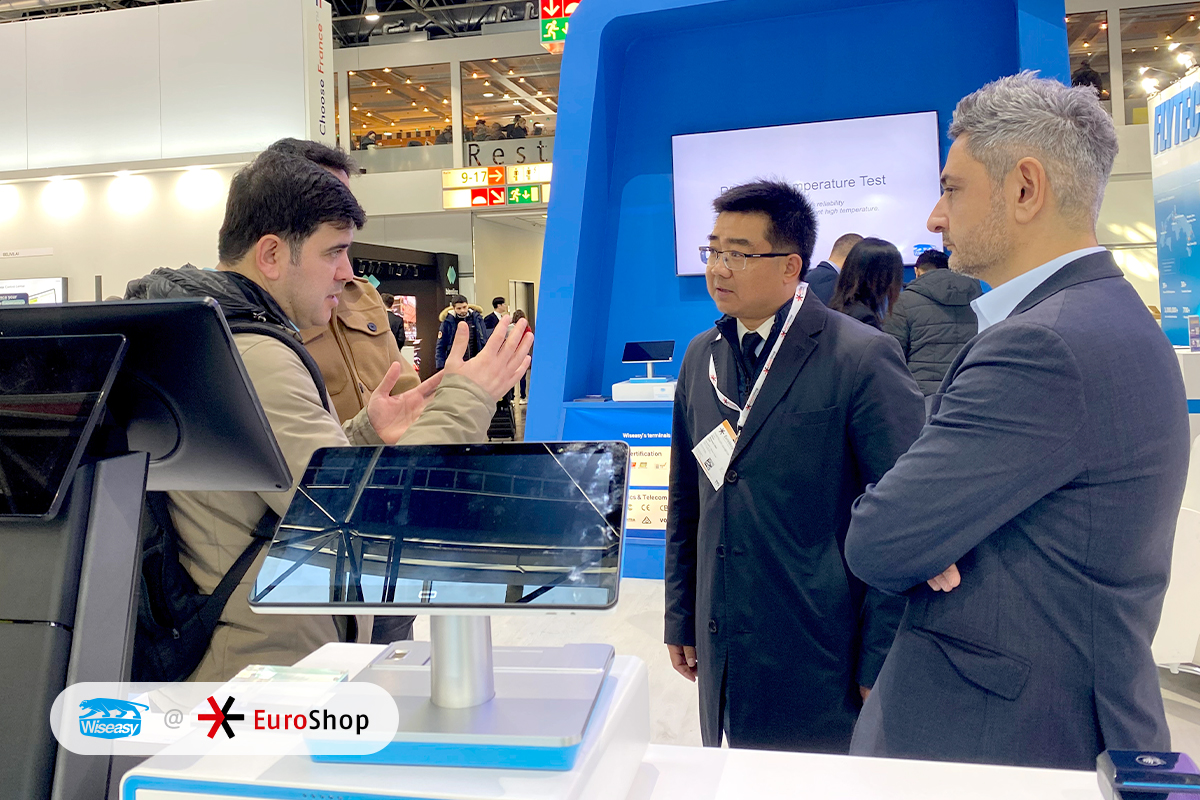 Wiseasy has showcased an array of smart payment devices at Euroshop 2023. A part of these devices represent the company's latest technological developments and achievements, such as P5, P5L and N6. The three models are equipped with the state-of-the-art Qualcomm Quad-Core 2.0GHz processor, so that they are outstanding in faster operation speed and multitasking with many applications. Another essential part of Wiseasy's product portfolio is its flagship models which have been well tested on the market for a long time, such as P3 (EMV Andriod POS), P3QT (EMV Andriod Pocket POS), N5 (Non EMV Andriod POS), T1 (EMV Andriod Tablet). Wiseasy QS2 (QR Payment Speaker) and R1 (Card Reader) have been rolled out recently to cater to the varied needs of merchants to bring them a much more convenient payment-accepting experience.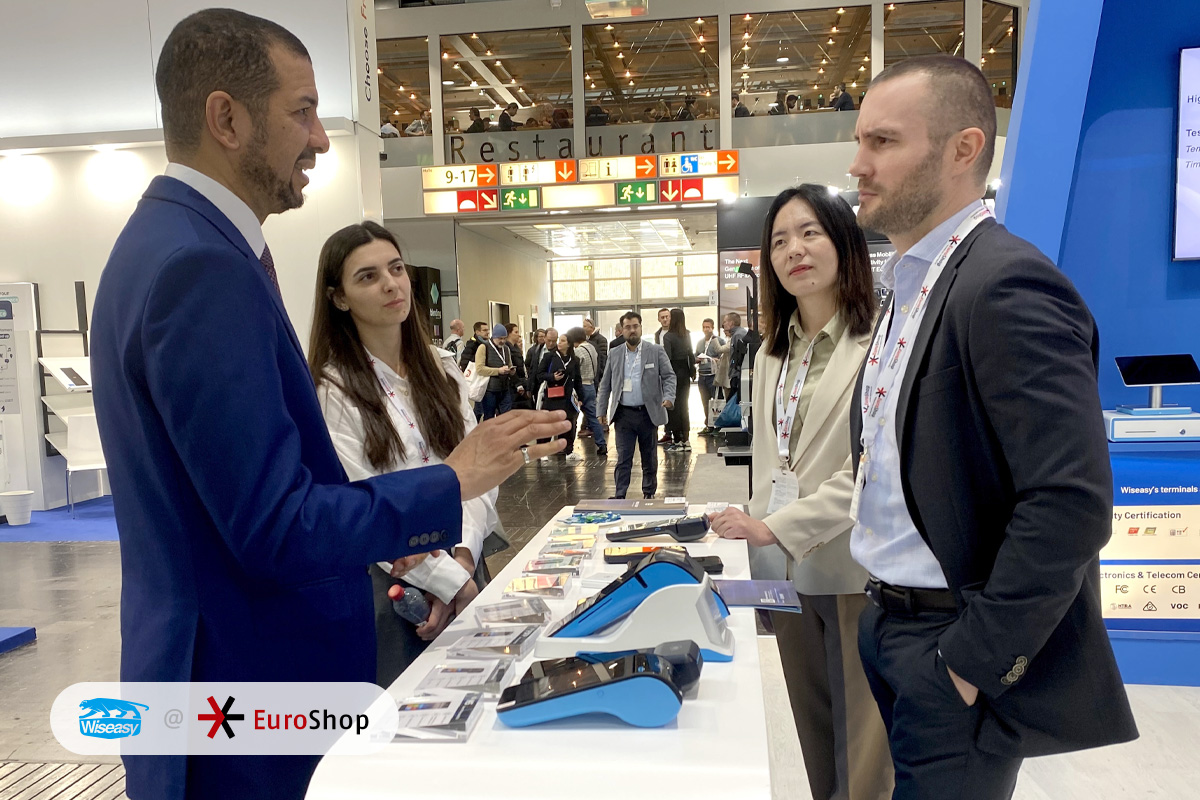 As a holistic payment solution provider, Wiseasy introduced its payment solution and IoT solution which work seamlessly with all its terminals and compatible with other third-party terminals. Wiseasy Payment Solution is a one-stop fintech solution based on PaaS. It enables retail business owners to manage the operational and technical requirements in payment processing. Going above and beyond TMS, Wiseasy IoT Solution is a comprehensive solution which integrates the management of devices, applications, OTA, batch tasks, merchants and system settings, to offer expanded visibility, effortless real-time control and overall insight to business operators.
The retail sector is the cornerstone and engine of global economy all the time. It is Wiseasy's passion and purpose to enable retailers to thrive with frictionless and secure payment experience. Wiseasy has been working on making selling simple and helping create superior customer experiences for over a decade. And the company will continue to bring more innovative payment solutions to modernize and revolutionize retail business from start to finish.