Florida | USA
Wiseasy Awarded "Top 10 Payment Solutions Providers 2023" by CIOReview APAC
Good news to share! Wiseasy has been awarded "Top 10 Payment Solutions Providers 2023" by CIOReview APAC, a leading technology magazine that is at the forefront of guiding enterprises through the continuously varying business environment with information about the solutions and services.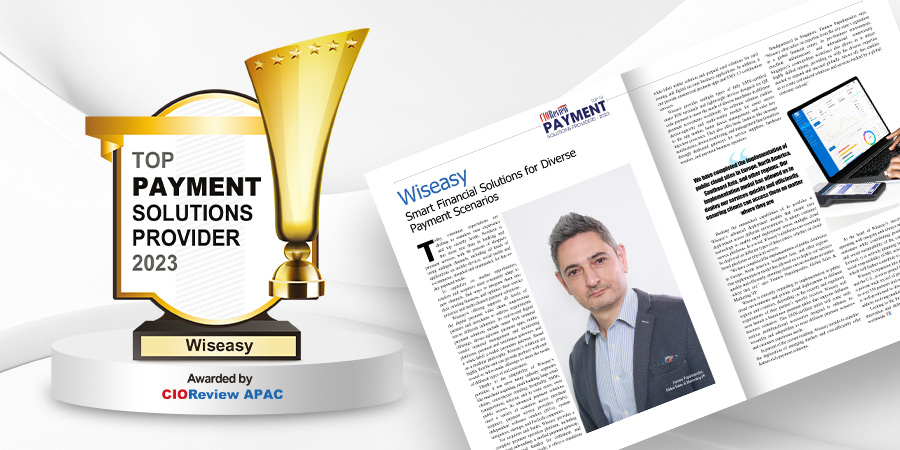 The digital transformation of the payments industry has continued to accelerate at a breakneck pace in the post-pandemic era. With more and more consumers now expecting the convenience and flexibility of digital payments, the sector has become more agile and innovative than ever to meet newer demands.
In response, payments vendors must work on offering solutions that aligns with a business's digital-first shopping experience – seamless, efficient, convenient, and personalized. There is a variety of payment solution vendors that are entering the market to cater to the different needs of the payment domain. To help customers choose the solution that best fits their requirements, CIOReview APAC has compiled a list of payment solution vendors via its award "Top 10 Payment Solutions Providers 2023" and Wiseasy is honored to be on the list.
Mr. Yiannos Papadopoulos, Wiseasy's Global Sales & Marketing VP, gave an interview to CIOReview in May. Just as he mentioned, Wiseasy's end-to-end digital payment solutions include smart POS terminal offerings, device-agnostic payment apps, multi-vendor terminal management and monitoring platforms, payment and remittance gateways, and a white-label e-wallet payments gateway. Based on a modular philosophy, Wiseasy's solutions are highly flexible and can provide partners with end-to-end or tailor-made offerings to meet the needs of different types of end customers. Backing the unmatched capabilities of its portfolio is Wiseasy's advanced deployment models that ensure easy deployment across different environments.
At the heart of Wiseasy's success is our commitment to tackling the ever-changing market needs by driving continuous innovations. Looking to the future, Wiseasy remains dedicated to developing future-ready solutions and delivering exceptional value to customers worldwide.
For more details, please visit Wiseasy: Smart Financial Solutions for Diverse Payment Scenarios.