Singapore | Singapore
Meet Wiseasy's Chief Investment Officer, Lay Cheng Tan who shares her vision about the payments industry and Wiseasy's transformation.
Lately, Wiseasy welcomed our first Chief Investment Officer and one of the Co-founders—Lay Cheng Tan, who has extensive experience in transformational growth and shareholder value creation for multinational companies. Sharing a joint commitment of bringing Wiseasy into a crucial business transformation and vast future, Ms. Tan shared with us her insight and vision for Wiseasy and the payment industry as a whole.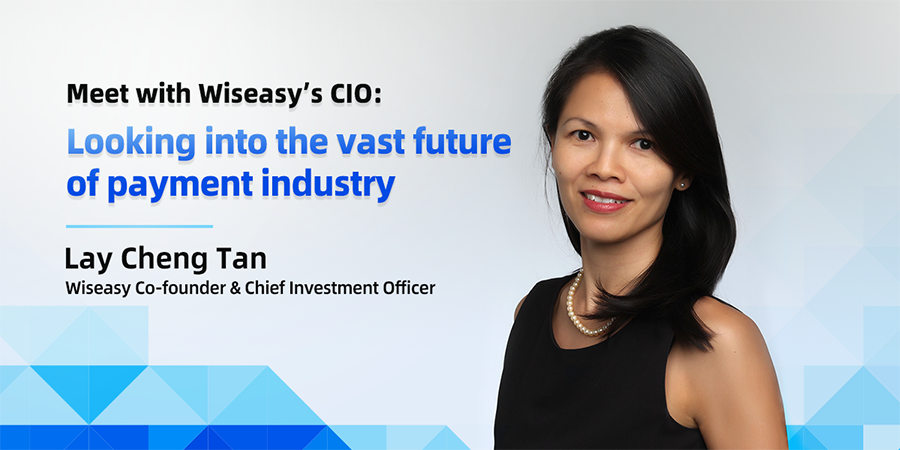 Q1: Speaking of the payments industry, could share with us your insight?
Well, just looking back a few years ago, it was impossible to transfer funds between bank accounts within the same day. Now, you can make a secure, real-time payment in any currency to another country in a matter of seconds. The payments revolution has been extraordinary in the last decade with the rapid digitization of the world, powered by the emergence of smartphones. Over the next decade, payments will continue to connect people, devices, homes, cars and avatars spanning physical, digital and virtual worlds.
Back in 1999, PayPal was the first major company to pioneer a new online payments method for e-commerce sites such as eBay. Ten years later, Square introduced payments innovation to the point-of-sale, allowing businesses with smaller transaction volumes to accept card payments with its card reader. The global pandemic over the last two years has further accelerated Fintech growth with the dramatic shifts toward e-commerce and digital payments. This has led to an unprecedented digitization of small-business commerce around the world, creating a heightened need for more advanced, yet easy-to-use solutions that are integrated across the value chain, combining the physical and digital to create an exceptional user experience.
Payments providers are seeking to differentiate themselves by expanding their product suite or by building scale across geographies, distribution and delivery channels. Some of the larger players are already moving beyond core payment-enablement services like authentication, fraud, alternative-payment-method (APM) acceptance and omnichannel settlement into value added services such as point-of-sale financing or BNPL (buy-now, pay-later) solutions and other solutions targeted at specific vertical needs.
As the world has become globally connected, interoperability and data transfer between platforms, which are the heart of payments and money movement, will drive the future. In the next decade, we can expect to see foundational changes with the introduction of 5G coupled with advances in AI, quantum computing and blockchain. Such radical progress and innovation will enable new technologies to flourish, including next-gen conversational AI, the Internet of Things, connected cars, and scalable augmented and virtual reality. As these new technologies are introduced to the marketplace, they will have a profound impact on how we live, work and consume. The modernization of payments, and the value-added services that surround the transaction, will be crucial for these exciting new business models to become a reality. So, I think there's tremendous potential for the future of payments over the next decade.
Q2: What impression does Wiseasy leave with you and what's your prospect of Wiseasy?
Solving pain points in the underserved SMB market
Before 2009, one of the greatest pain points for small business owners was processing credit card payments at the point of sale. Much like how Square brought payments innovation to the point-of-sale, allowing small businesses to easily accept card payments with its reader that could be connected to a mobile device, Wiseasy introduced the first smart POS terminal that meets the financial security criteria and is certified by China Union Pay. Unlike traditional POS system, Wiseasy's POS are based on Android operating system, giving it unlimited opportunities in extending the application scenarios and integrating with software to offer innovative value-added services.
Payment is a competitive factor: payment solutions that are faster, more user-friendly and easily scalable provide competitive advantage for businesses. Wiseasy's suite of integrated "cloud + software + terminals" solutions cater to the varied needs of merchants and help them start, expand and scale their business across geographies easily and seamlessly. When we help our customers accelerate their growth and expansion, our business will grow along with them.
As we continue to refine our core capabilities and how we go to market, we will look at opportunities to engage deeper within the Fintech ecosystem to explore collaboration with partners across the value chain and bring together different propositions to solve for a seamless customer experience.
Q3: How do you say about our international HQ located in Singapore?
Singapore has a good reputation as a key financial centre in the world and offers a pro-business environment, excellent infrastructure, international connectivity, as well as a highly skilled, cosmopolitan workforce.
Wiseasy provides fintech products and services to customers and partners in 114 countries worldwide. Our business is global; hence it makes sense to locate our international HQ in Singapore. Over the last two years, we have entered new geographic markets and set the foundation for the expansion of our international business which will accelerate from this year onwards.
As we expand globally, it becomes even more important that we attract key talents for international roles. Having our HQ in Singapore will provide good access to this talent pool which we expect to build out in the later half of this year.
Q4: Currently, crucial business transformation and farsighted leadership are quite intricately linked, what's the next step for Wiseasy's business expansion?
The strategy consulting firm, McKinsey & Co. advocated five big moves that are essential for a company to successfully transform and move up on the power curve of value creation.
The first two are performance related moves, relating to substantial changes that lead to better margins. The second move is differentiation improvement in terms of innovation in products, services and business models. The second category covers three "portfolio-related" moves. The first is active resource reallocation, which is defined as the company prioritising and shifting more than 60 percent of its capital spending across its businesses or markets over ten years. The second is a big move in programmatic M&A, requiring the company to execute at least one deal per year, cumulatively amounting to more than 30 percent of a company's market capitalization over ten years. Finally, companies must invest such that the ratio of capital expenditure to sales must exceed 1.7 times the industry median for at least a decade.
Wiseasy has been executing on performance related moves and have evolved from focussing on smart POS hardware to delivering innovative "cloud + software + terminals" all-in integrated solutions. As we deliver enhanced value proposition to our customers and help them accelerate their business growth, we will also achieve margin shift and improvement over time. Wiseasy has also been developing innovative solutions to meet changing market needs. For instance, Wiseasy's agency banking solution can support banks in emerging markets in extending their network and services to the unbanked population.
The setting up of the Singapore HQ is the first step towards portfolio transformation. In this area, we will continue to prioritise and allocate our capital resource to the highest business needs and opportunities as they arise. I think we are well positioned to succeed in our transformation journey to create value for our customers, our shareholders, our employees and the larger community.
Embracing transformative change requires the commitment of everyone in the company. Our CEO, Li Yan has the vision of Wiseasy to be a global company using technology innovation to enable financial inclusion around the world – this is a compelling change story that inspires and brings everyone together in the company to make it happen!